Welcome! My name is Abby and I am a visual journalist. Photography is my passion, the way I live and view the world.
I am a staff photographer for the Centre Daily Times, the major newspaper for State College and Centre County, Pennsylvania. I cover a wide array of local news events, high school sports, minor league baseball and Penn State events and sports.
I received a Bachelor of Fine Arts in Photography from the Pennsylvania State University. Through my four years at Penn State's University Park campus I was an active member of the photo staff at the student run newspaper, The Daily Collegian. My senior year was spent as the photography editor, leading a staff of 25 photographers. My work at the Collegian received several awards for both photography and video.
Before becoming a staff photographer I gained experience serving internships at The Reading Eagle and the Allentown Morning Call, two prominent daily newspapers in Pennsylvania.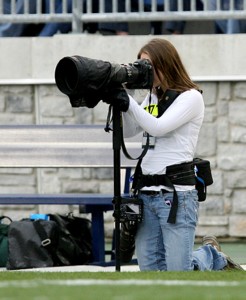 My images have appeared in publications such as Sports Illustrated, Entertainment Weekly, and the Penn Stater Magazine, in addition to numerous newspapers and websites. I am also a member of NPPA and Sportsshooter.com.
My creativity encompasses photographing weddings, engagements, portraits, boudoir, and all of life's amazing moments.
I love talking to people and making images that share stories and capture history.